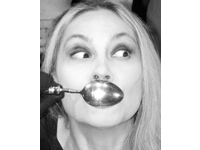 Actress-singer of Italian and international scene and... "Cave off" long, Benedetta Laurà from classical theater repertoire track with great ease and natural.

Student of Vittorio Gassman and graduated from the Theatre Academy Vittorio Gassman, she studied with Jeanne Moreau, Adolfo Celi, Yves Lebreton, Giancarlo Sepe, Paolo Giuranna, Claudio Puglisi and Alvaro Piccardi, Renato Cortesi and Tata and Chuck Wider, Silvia Llanos, Joe Lampugnani.
She has also a Diction Diploma from the Accademia Filodrammatici Milan.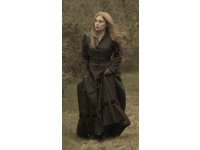 She studied in Japan "Suzuki Method" with Ellen Lauren and director Tadashi Suzuki himself.
She has worked with many directors including Theodoros Terzopoulos ("Antigone", Theatre Olimpico Vicenza), Mattia Sebastian ("Anais Nin", "Les bonnes of J.Genet "Eleven Vests" of E.Bond), Moni Ovadia, Daniele Abbado ("Golem" in Berlin, Paris, New York), Filippo Crivelli ("La maschera" of Bertolazzi Festival Todi), Walter Pagliaro ("The Baccanti" Greco Theatre Syracuse), Mario Giorgetti ("the Erinni-Cassandra ", New York), Franco Gervasio (Le Petit Prince/T.Stabile Torino), Arnoldo Foà ("La pace, di Aristofane")...etc ...
His recent performances can be seen in particular: "Sleepwalkers from A.Strindberg for International Theatre Festival Toga-Giappone (2009) and the Teatro Out Off-Milan (2012), directed by Mattia Sebastian.
"Medea Material" by Heiner Müller, for the International Theatre Festival Toga-Giappone (2010) and the Teatro Out Off-Milan (November 2013), directed by Mattia Sebastian.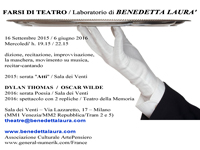 Since 2006, Benedetta Laurà teaches recitation and among its theatrical laboratories, has staged plays by Molière, Brecht, Shakespeare, Goldoni, Garcia Lorca, Ionesco, Cechov, Feydeau, Karl Valentin...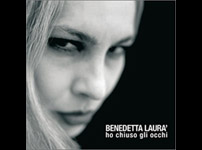 Versatile artist virtuoso vocal potential, often irreverent, she plays, reinventing and appropriates the hits (with his recitals "LaLaLa... the French song" and "LaLaLa... Brecht-Weill"), of Ferré, Piaf, Brel, Vian... Brecht-Weill and American swing repertory 1920-1930.

In his first CD "Ho chiuso gli occhi" (I closed my eyes), she is the author of "Specchio", "Ho chiuso gli occhi", "Non so cosa", "Quell'uomo in gilet." She received the 1st prize Celebrity Edition Cover Music Festival (Bologna 2009) with recovery, "Guarda che Luna", recorded his first album.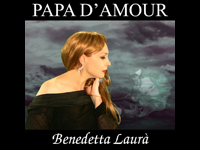 Turn singer and author Benedetta Laura worked with accordionist and composer Gianpietro Marazza, I Raphsodja Trio, Michele Fedrigotti, Carina Aprile, Orchestra Toscanini di Parma G.Zimmardi Orchestra, Milano Swingtet with Paolo Alderighi...

She is currently working with singer-songwriter Franz Theullier with which it prepares its next CD in French.